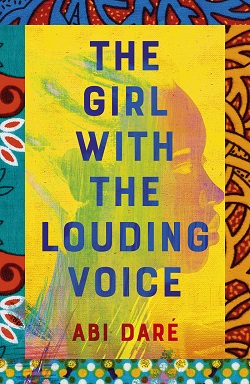 The Girl with The Louding Voice, by Abi Daré, has been chosen for the Radio 2 Book Club, and will be on the show on Monday 23 March.
We have the chance for you to win a set of 10 copies of this brilliant novel for your reading group.
To apply, please log in and fill in your details below before Friday 27 March.
Not yet a member of Reading Groups for Everyone? Sign up now.
The Girl with The Louding Voice
Adunni is a fourteen-year-old Nigerian girl who knows what she wants: an education.
As the only daughter of a broke father, she is a valuable commodity. Removed from school and sold as a third wife to an old man, Adunni's life amounts to this: four goats, two bags of rice, some chickens and a new TV. When unspeakable tragedy swiftly strikes in her new home, she is secretly sold as a domestic servant to a household in the wealthy enclaves of Lagos, where no one will talk about the strange disappearance of her predecessor, Rebecca. No one but Adunni…
As a yielding daughter, a subservient wife, and a powerless servant, fourteen-year-old Adunni is repeatedly told that she is nothing. But Adunni won't be silenced. She is determined to find her voice – in a whisper, in song, in broken English – until she can speak for herself, for the girls like Rebecca who came before, and for all the girls who will follow.
Abi Daré grew up in Lagos, Nigeria and has lived in the UK for over 18 years. She studied law at the University of Wolverhampton and has an MSc in International Project Management from Glasgow Caledonian University.
Keen to improve her writing, Abi completed an MA in Creative Writing at Birkbeck University of London, achieving a Distinction. The Girl with The Louding Voice won The Bath Novel Award in 2018 and was selected as a finalist in The Literary Consultancy Pen Factor competition in 2018. Abi lives in Essex with her husband and two children.
Tweet